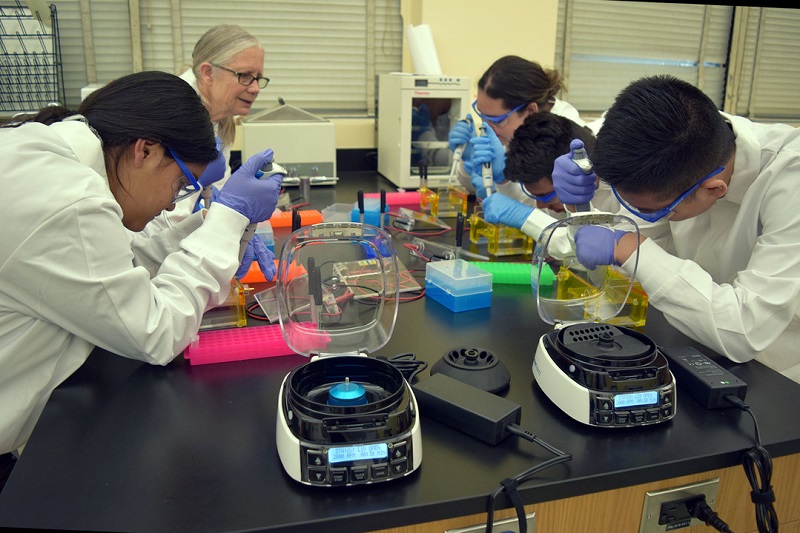 Dr. Wendy Wooten engages her students in the labs of the Amgen Biotech Experience at Reseda High Charter School in Los Angeles. Photo by Evelyn Perez. Used with permission.
You know it when you see it.
Lin-Manuel Miranda transforming a book into something else entirely. Messi moving up the field with a soccer ball that moves along with him. Diamond taking 13,000 years of history – and multiple disciplines – to incredibly show us how and why societies advanced in different ways at different rates.
Those at the top of their game.
That said, we must be careful not to put these individuals on too high a pedestal. Gladwell showed quite cleverly and effectively in Outliers that we are profoundly shaped by the opportunities and environment we live within.
We talk about the brilliance of Bill Gates; we talk less about the opportunity he had to learn programming at an elite private school in Seattle as an eighth grader. In 1968.
This is to take nothing away from his remarkable accomplishments that continue to date, only that if we focus exclusively on how special and uniquely talented a person is – and ignore the opportunity side of the equation – we can end up neglecting our role in shaping the environment and most importantly the culture that will develop and empower the next ten Bill Gates. And when we picture certain professions and fields, we'll also become less blinded to what he is supposed to look like.
Given we all do play a role in shaping the culture of our organizations, teams and communities with every minute and every interaction – whether we intend to or not – how should we go about creating a culture that doesn't just lead to innovative leaders, but that leads to growth and meaning and ownership in our young people in particular? And for that I'll turn to schools, and to classrooms, and to teachers. For that I'll turn to a science teacher at Reseda High Charter School in Los Angeles, a Title 1 public school serving a large percentage of low-income students. It happens to be my father's high school sixty years ago.
This is not to neglect the fact that superintendents, principals, staff, students, and parents all play a role in shaping a school's culture. In fact, look no farther than the mother that opens the car door for little ones at my kids' former elementary school for someone who sets the tone for a school community. She started helping every five-year old out of the car when her daughter was in Kindergarten—she's still there five mornings a week, and I understand her daughter recently graduated from college.
Or the campus aid at our local middle school—the camaraderie, kindness, and compassionate authority he has with probably half the student body (the school has over 2,000 students) is invaluable in creating a school climate where someone clearly cares about you and knows your name.
But I want to call out Dr. Wendy Wooten as a way of calling out all educators. It doesn't happen enough. My year teaching at a middle school in rural Japan showed me the trust and respect accorded to teachers in a very different culture. Here in the U.S., too often politics and culture and bureaucracy get in the way of not just supporting our current educators, but also in creating a climate where potential future educators – so needed in certain subjects and communities – choose a different path.
Dr. Wooten is a teacher at the K-12 level somewhat by accident. After earning her PhD in Biochemistry and Cell Physiology from UCLA, she did some teaching at the university level as a postdoc. When her younger daughter was assigned to afternoon kindergarten by LAUSD due to lack of classroom space, and she as well as other parents suddenly had no available daycare, she took a year-long leave to run the kindergarten daycare (which she said was a great experience that she loved!)
Her daughter's kindergarten teacher then introduced her to her husband, who happened to be the Science Department Chair at Birmingham High School, who convinced her she could have an even greater impact with her background teaching AP Chemistry and Biology to high school students. That was nearly 40 years ago; and more importantly and lucky for us, that was 5,000 students ago and counting.
I know Dr. Wooten would have made a difference in the lab (and yes, we do need more young people to embark on a research career,) but can you imagine the difference she's making as her students start their own labs and embark on their own careers?
Dr. Wooten teaches – and has taught – Honors Biology, AP Biology, AP Physics, Robotics, and Biomedical Science for every grade at the high school level. She's been one of our strongest teachers worldwide in bringing hands-on biotechnology labs into her classroom.
In her words, "I mostly perceive my teaching as that of a parent trying to give my kids as many opportunities as possible, and my reward is seeing all of their successes."
From my interactions with her, her passion and drive are clear. If she tried to hide her joy for teaching and learning science I think she'd have difficulty. Simply put, she's the real thing.
I'm also excited to think about what an educator like Dr. Wooten will do with the powerful capability a free online platform like LabXchange opens up to her and her fellow professionals.
I'll end how I started. Is Dr. Wooten at the top of her game? You bet she is.
Is she so uniquely special that we can't possibly have other teachers like her, or hope to induct and train other teachers like her into the profession? No. We can, and we must (and we do).
Talent needs opportunity and culture to grow just as a flower needs sunlight and water. But all flowers. That flower in the resource-rich environment of the nursery deserves a chance to grow. That wildflower on the distant hillside or down the cracked alley does too.
Our children depend on it. As do we all.
***
Note: For those who love soccer as much as I do, I purposely did not link to highlights of Messi with a soccer ball. Too hard to stop watching. But even there, behind his unique abilities you'll find opportunity and an environment and a culture that allowed and empowered him to do what he does.
And as an update to my last article, when talent is provided with opportunity it can lead to great things.
—
The Amgen Foundation, the primary philanthropic arm of the biotechnology company Amgen, is deeply committed to inspiring tomorrow's scientists and deepening scientific literacy locally and globally. The Foundation's portfolio includes major global initiatives such as Amgen Scholars and the Amgen Biotech Experience, complemented by significant virtual initiatives in Khan Academy and the yet-to-launch LabXchange, in addition to other programs that empower Amgen staff members to donate their time, talent and resources to making a difference in their communities. (To see how Dr. Wooten helps her students to identify as a scientist through programs such as the Amgen Biotech Experience, check out this video.)
To date, the Foundation has contributed more than $300 million to local, regional and international nonprofit organizations that reflect Amgen's core values and complement the company's dedication to impacting lives in inspiring and innovative ways. To learn more about the Foundation's commitment to inspiring the scientists of tomorrow, check out http://www.AmgenFoundation.org and follow @AmgenFoundation on Twitter. You can also find me on Twitter at @ScottHeimlich.