As National Teacher Appreciation Week kicks off today, we would like to thank the many educators that are the backbone of our programs, especially the amazing teachers and mentors involved in the Amgen Biotech Experience (ABE), which empowers teachers to bring biotechnology into their high school classrooms. However, we believe that teachers should be celebrated year-round, which is why we were excited to host multiple ABE Teacher Recognition events, in partnership with our global ABE program office at EDC, in the U.S., Puerto Rico, U.K., and Ireland over the past year.
"While everyone wants to feel appreciated, the ABE Teacher Recognition program goes deeper than that. The goal of the program is to help us identify, understand and support what teachers value most in order to keep them as partners and contributors to ABE. Teachers are an essential resource for ABE, and one of the main reasons the program works so well across the globe," said Rebecca Lewis, director for the ABE Program Office.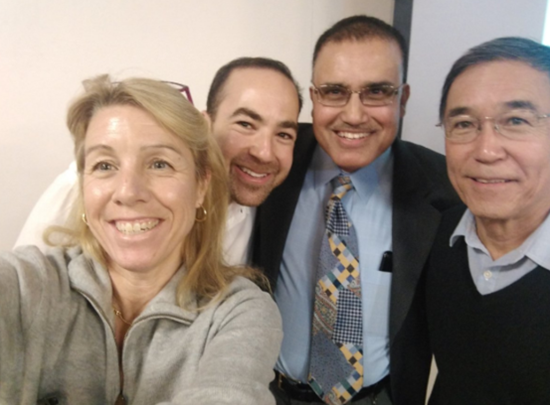 From left: Winnie Litten, Oak Park High School biology teacher; Scott Heimlich, vice president of Amgen Foundation; Sam Guhan, vice president of Drug Product at Amgen and member of the Amgen Foundation Board of Directors; Professor Marty Ikkanda, former ABE director of the Los Angeles region
Each event was customized to fit the interests of local teachers, but elements included networking with educators and Amgen staff, tours, award ceremonies, lab experiences, and more. For example, in January, the ABE U.K. team developed a fun school assembly to highlight local ABE teachers. And in February, we partnered with the ABE Los Angeles team to host an ABE Teacher Retreat at the Amgen headquarters in Thousand Oaks, California.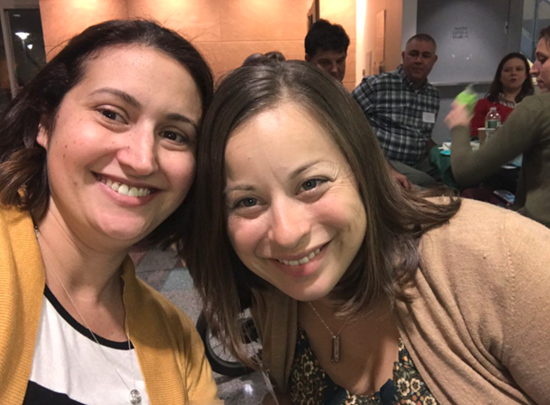 From left: Amanda Pedersen, Fairhaven High School science teacher, and Erin Hobbs, Newburyport High School biology and environmental science teacher
"My favorite part was meeting other teachers and having a chance to network. I would love to attend another event and get more of my colleagues involved in ABE," said Ava Chiao, an Independence High School science educator. Ava has been an ABE educator for four years and attended her local ABE Teacher Recognition event last fall in San Francisco, California.
Amgen is proud to support thousands of science teachers each year through ABE, which to date, has delivered high-quality biotechnology education to more than half a million students in the U.S., Puerto Rico, U.K. and Ireland.
Our mission at the Amgen Foundation is to advance excellence in science education to inspire the next generation of innovators, and teachers are an integral part to accomplish this goal. So this week, and every week, we are grateful to teachers around the world for their tireless work to inspire young minds and expand students' understanding of the world around them.
Did you have a teacher that made a difference in your life? If so, join the conversation with @AmgenFoundation using #ThankATeacher and #BiotechExperience. Visit www.amgenbiotechexperience.com for more information about ABE.